INTERVIEW WITH VANJA KUNDRATA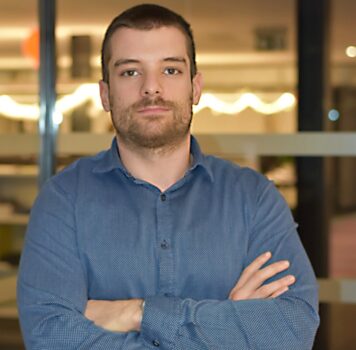 M SAN Grupa has recently strenghtened it's gaming section with the addition of a new team with extensive gaming experience. Vanja Kundrata is one of them, and in this conversation, he reveals what he thinks about his arrival to M SAN Grupa as well as how the strenghtening of the gaming section will benefit not only the company, but the gaming community as well. 
"The path from a casual to team player in the gaming section is definitely challenging, but also enjoyable." Vanja.
How much time do you spend playing video games on a daily basis?
These days, it' not enough. (laughter) I'd say, not more than an hour daily.
However, during the weekend it increases to 4 hours daily.
It used to be very different. (laughter)
What distinguishes a "casual" gamer from a pro gamer?
The differences between professional and casual gamers, in my opinion, are: the amount of time spent playing, skills developed through play and the ability to reach a level where you can get paid for gaming.
Do you play under a nickname!? If so, where did the inspiration for it come from?
I think every player has a nickname, at least in the beginning.
I'd say that as you get older as a gamer, your nick becomes more similar to your name.
I've changed mine over time and the most recent one, that I've also used the most, is Vanjitos. It was given to me by a childhood friend at the start of my gaming path.
Parents frequently prohibit their children from spending a significant amount of time playing video games because they consider it a waste of time.
Could you comment on that?
Personally I feel you need to have a good balance as in life, so in gaming.
The world of esport, which has completely demystified a gamer's way of life by securing coaches who take care of their health, diet and practice, is the best example of that balance. In other words, they are responsible for the players' excellent mental and physical condition.
Some of the advantages I'd like to mention are improved focus, short term memory, hand-eye coordination and reaction speed.
All of these are also important skills for a fulfilling life outside of gaming as well as any other sport.
What was the application process like for the position of Gaming category manager at M SAN Grupa and what was the key factor for your employment at M SAN Grupa?
People, as is customary in business, are the ones who decide your fate. (laughter).
In my case, human resources specialist Anja Drača, PC components and MSGW lead Denis Polanšćak and board members Žarko Kruljac and Goran Kotlarević recognized my abilites, skills and personality. I'd like to take this opportunity to thank them for a pleasant and accommodating hiring process, as well as a stimulating discussion about gaming.
The gaming industry is booming and it's value exceeds that of the film and music industries combined. An intriguing fact is that the global gaming industry was worth $167,9 billion in 2020. and it's predicted to have it's value rise to $287,1 billion by 2026. These are the numbers which we can't ignore.
The future of esports on the global stage is undeniable and my joining of the M SAN team demonstrates our plans for growth not only as a producer, but also as a partner.
Could you please explain your role at the company in a nutshell?
My role is to better integrate our procurement, sales and marketing divisions with the goal of presenting gaming better to our strategic partners while also connecting the M SAN Grupa to end consumers through our personal brands from the gaming category.
What about your plans?
The strenghtening of our distribution network and personal brands through engaging with esports, collaborating with gaming influencers and Youtubers and many other marketing activities.
We'll talk about it further at a later time. 🙂  
For the last question, which gear can you recommend for playing videogames?
First of all, gaming gear highly depends on the game which the gamer plays.
Comfortability of the gaming gear is a priority for every gamer, but also for the manufacturers which allows gamers to play for hours on end without repercussions (sometimes it can be up to 10 hours daily). Regarding mice and keyboards, precision and speed is very important. Every gamer has their own preference in this category.
When we're talking about components, gamers always seek products that are in the mid to higher range especially when we're talking about graphics cards, memory modules and processors.
At the end, considering the earlier mentioned product categories, I would like to mention that because of our brands MS(2001) and MSGW(2005), but also our multiyear partners ADATA, Acer, AMD, AOC, Asrock, Asus, Dell, HP, HyperX, Intel, Kingston, Lenovo, LG, Philips, Samsung, Steelseries, Thermaltake, WD, Transcend and UVI equipping gamers through M San is a real treat.